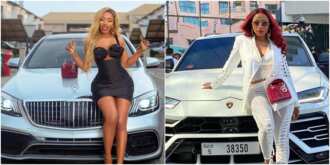 Mercy also noted that she finds it appalling when people attribute her success to a man
BBNaija Pepper Dem star Mercy Eke has put the records straight about her success and how it is not tied to a man.
The reality star recently released another video on her YouTube channel where she answered some questions from her fans.
A fan asked her how she feels when people associate her success and wealth with men and she stated that she has stopped letting it get to her.
BBNaija Mercy Eke talks about her success.
She said:
"In this part of the world, people believe a man is behind the success of a woman, whether she is married or single. I work hard for everything I own today. When people say a man is behind these things, I find it appalling. However, it does not get to me anymore because what else would one say? It only shows that my success is visible."
On what her biggest fear in life is, Mercy replied and said that it is failure.
She said:
"My biggest fear in life is failure. I don't want to fail and go back to the streets. I don't want to roast corn anymore. I just want to keep doing what I know how to do best. The fear of failure makes me stronger. That is why no matter what is thrown at me, I would never stop growing. I would never stop establishing myself and I would never stop dreaming."